Expanded Form Game - Island Village Creator
In this game you will practice expanded form while creating a village and finally walking inside it.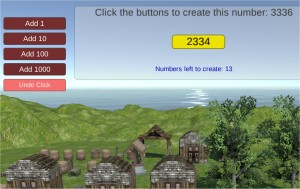 Instructions:
In every trial you will be presented with a target number, which you have to create by clicking the buttons on the left.
The buttons allow you to add 1, 10, 100 or 1000.
For example, if the target number is 1300, then click "Add 100" three times, and "Add 1000" one time.
Every button will also add an object to your village.
There is an "Undo" button in case you made a mistake.
When you finish all 15 trials, you will step into the scene, and walk and visit the village you created!
Tech info:
The game works best with Google Chrome.