Comparing Numbers Playground
Let's practice comparing numbers in our beautiful relaxing playground.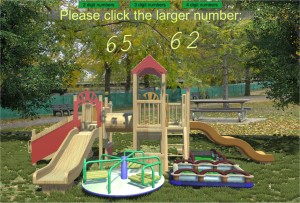 Instructions:
In every trial two numbers will appear. Click the larger number.
A correct click will make all the numbers drop down and join the scene.
You can choose to play with 2, 3 or 4 digit numbers (up to thousands) by clicking the green buttons on the top.
Tips: Did you try to click the numbers after they've reached the ground? Did you try to click the spinning carousel?
Tech info:
The game works best with Google Chrome.